RE: ** Alfa Romeo miniaturen ** . . . . . . Super Mario
Geplaatst: di jul 17, 2007 16:19
Really good work, those decals. As fas as I can see they've been applied without tears or wrinkles

In de Alfa Romeo Sport Collection van Fabbri verscheen vorige week de 179C Formule 1 auto waarmee Mario Andretti in 1981 aan de Grosser Preis van Duitsland meedeed. Als je 't nou over klonen hebt... want de nr. 23 van de net zo sympathiek als bescheiden Italiaanse coureur Bruno Giacomelli was er ook al.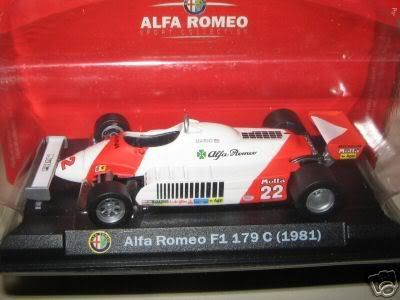 Op een Italiaans forum lees ik dat ze nu wel de fluoriserend oranje/rode kleur van sponsor Marlboro hebben verbeterd. Goed punt? Hm... minder leuk als je de twee auto's van het team naast elkaar op de plank wilt zetten... Op zich is het wel een erg geslaagd model. Eventueel kan je op jacht naar Marlboro decals om er de versie uit een andere race van dat jaar van te maken.
Van Progetto K weet ik onderhand niet meer wat er nou nieuw is of niet... (waar blijven de 33 en de 90, of gaan ze weer wachten totdat Starline ze te vlug af is (Berlina...))
Er worden ook twee GTAm's met 'Kent'sponsoring als nieuw gepresenteerd, maar die bestonden allang.
Dit Romeo service busje in dienst van Ferrari kwam ik nog niet eerder tegen, dus wel echt nieuw?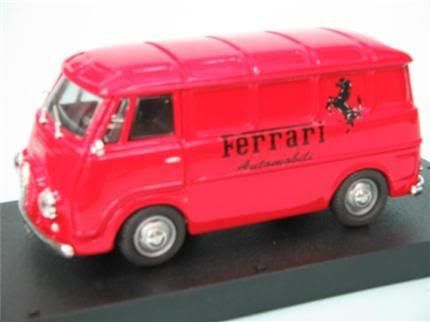 Vind 'm wel leuk trouwens.