Volgend weekend rijdt de TCR Middle East in Abu Dhabi.

Voor Mulsanne racing / Giulietta team komt de Georgier Davit Kajaia aan de start.
Hij reed vorig seizoen voor Engstler in een VW Golf GTI . 10e algemeen in de kampioensstand.
Tijdens een test sprak hij over de Giulietta als een makkelijk rijdende auto die potentie heeft zoals Cerruti laatste wedstrijd liet zien.
Hij heeft hoop op het podium te kunnen eindigen.
10-11 february
Yas Marina Circuit
, round 3 & 4 TCR Middle East
Kajaia in Alfa 2nd in qualifying.
Race 1 JAS Honda Josh Files' victory only ripened in the final laps, after a close fight with Davit Kajaia's Mulsanne Racing
Alfa Romeo
Giulietta TCR. Kajaia, who was also sitting for the first time in the Italian car, matched the second place claimed by Michela Cerruti at Dubai four weeks ago.
Davit Kajaia (second):
"I made a very good start and I was in the lead for eight laps, but I was very aggressive in the beginning to be fast and my front tyres slowly lost grip so I knew I couldn't hold on to first place. I let Josh past, but I have to say I'm happy with the result. The car is in really good shape and I hope I can fight for more podiums. I'm very confident with the car, it's very driveable and I have a very good feeling with it. I must say a big thank you to the team – they did a really, really good job and they improved the car step by step after every session."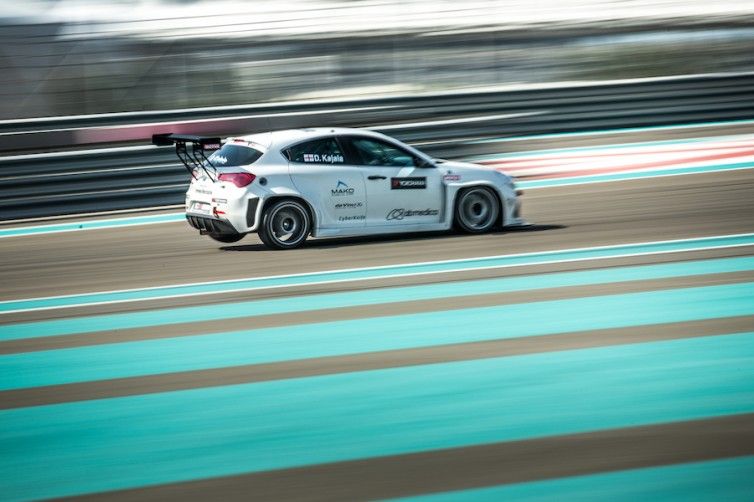 Race 2 If Josh Files had to work hard to beat Davit Kajaia's
Alfa Romeo
and claim victory in yesterday's Race 1, today he outshone his competitors with the greatest ease, pulling away at the rate of one second per lap. However, this supremacy has prompted an investigation: data have been downloaded from the ECU of Files' car and results remain provisional, pending checks by the TCR technical department.
Behind Files, Kajaia proved the excellent progress of the Romeo Ferraris-built
Alfa Romeo
Giulietta in both, speed and reliability.
Davit Kajaia (second):
"I'm very proud of the team and the car. I didn't have a very good start because I had too much wheelspin and Josh overtook the other cars very quickly. It was a little bit difficult for me to overtake the others and I lost too much time, but finally I took second place. It wasn't difficult, as I was in Luca Engstler's VW slipstream and overtook him quite easily. Then I saw Josh was a long way in front of me, so I just kept my pace and so I could control Luca behind me. Now I have to concentrate on Bahrain and try to get on the podium again there.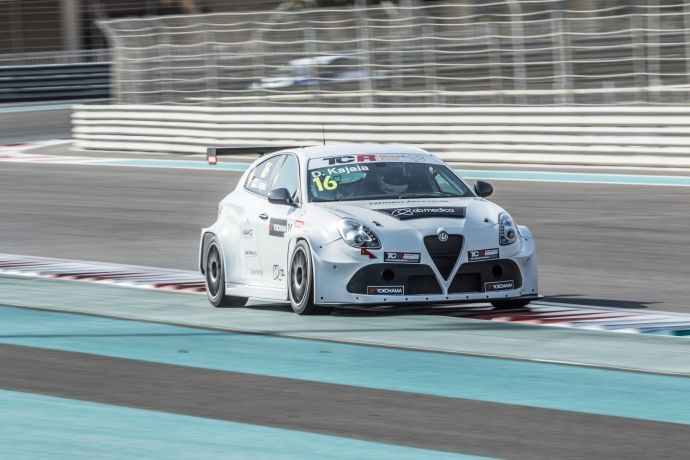 press release TCR Middle East Series